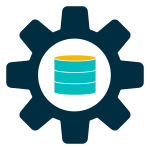 Software-defined storage (SDS) is a technology used in data storage management that intentionally separates the functions responsible for provisioning capacity, protecting data and controlling data placement from the physical hardware on which data is stored.
SDS allows storage hardware to be easily replaced, upgraded, and expanded without uprooting familiar operational procedures or discarding valuable software investments.
If you contrast modern SDS principles with hardware-bound designs that inextricably tie storage operations to a specific device or manufacturer, you'll find that each make and model performs similar functions but implements them differently so as to render them mutually incompatible.
Such incompatibilities turn minor hardware refreshes into major operational overhauls delayed by painful data migrations, resulting in costly storage silos.
In their most versatile form, SDS solutions hide proprietary hardware idiosyncrasies through a layer of virtualization software.Unlike hypervisors that make a single server appear to be many virtual machines, SDS combines diverse storage devices into centrally managed pools.
The scope of an SDS product may be confined to a small selection of hardware and a short list of functions, especially when offered by a hardware manufacturer consciously limiting where it can be used.
More flexible alternatives from independent software vendors, such as DataCore, support a variety of hardware choices and a rich set of data services.
Trước khi triển khai SDS
 bla bal
Sau khi triển khai SDS
bla bal
Trước khi triển khai SDS
Hệ thống rời rạc, quản lý phức tạp
Các tài nguyên không được tận dụng
Sau khi triển khai SDS
Hệ thống rời rạc, quản lý phức tạp
Các tài nguyên không được tận dụng
How Software-Defined Storage Works
One important reason why companies are switching to a SDS model is the ability to consolidate and manage all existing storage centrally from one place, while also facilitating a set of diverse features and functionalities.
SDS is a software controller that virtualizes and manages your physical storage. Essentially all of your storage capacity will be consolidated into "virtual pools" and thin provisioning for maximum capacity utilization.
Once the virtual pool is created, "virtual disks" are also created in the pool and then presented to your host servers as raw LUNs to store data.
Khách hàng sử dụng giải pháp
Liên hệ với chúng tôi để tư vấn trực tiếp